Western Sydney students unite to share culture
17 Mar 2022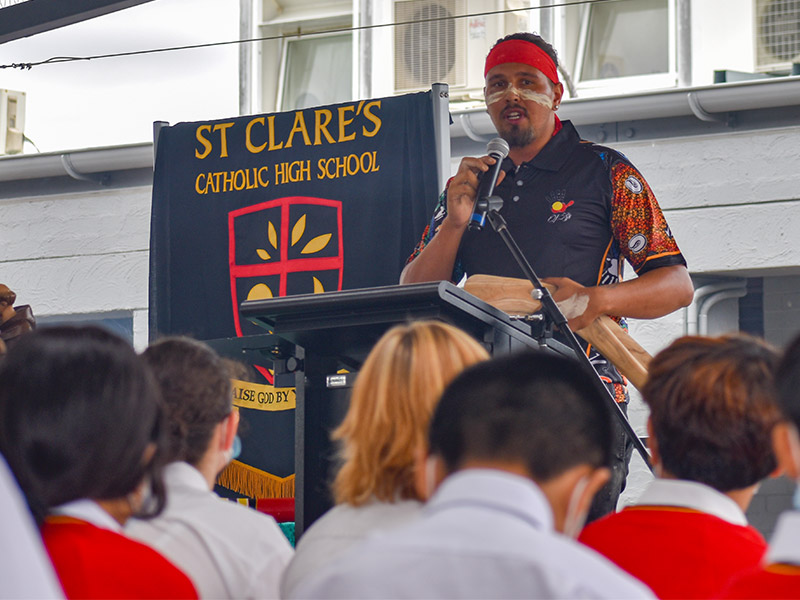 St Clare's Catholic High School Hassall Grove students and staff participated in a Smoking Ceremony and Water Blessing recently, coming together to share culture.
As we mark National Close the Gap Day, a day of action aimed at addressing inequality for Indigenous people in Australia, this event is a reminder of our strong shared commitment to reconciliation.
A particularly memorable moment for students was the Water Blessing, a ritual that acknowledges the customary living relationship that Aboriginal communities have with water through creation stories and their inextricable connection to the land.
"What I remember most about the ceremony was the water blessing", said Year 10 student Kurt Oliver.
"The blessing was meaningful because everyone had the chance to make a fresh start and we were shown the ways in which other cultures embrace such opportunities", classmate Imogen Sheslow added.
The ceremony's signs of renewal and rebirth are symbolic of the school's broader mission to foster diversity and inclusivity, with the help of the Jarara Indigenous Education Unit of the Catholic Education Diocese of Parramatta.
"We are thankful to the Jarara Team who provided our students with Indigenous ceremony and tradition to signify the spirit of renewal that is inherent to our faith and important for all students at the start of the year," said Assistant Principal Hayley Lalor. "We are a culturally vibrant community, in which we all benefit from diversity. We consistently strive to praise God with acceptance, inclusivity and peace."
St Clare's Head of Mission Jessica Damski notes that the school has strong cultural ties to the Aboriginal community.
"The Aboriginal community have been at the forefront of St Clare's from the very beginning, which is acknowledged by our school colours, chosen from the Aboriginal flag: black, red and yellow," she said.
With Aboriginal identity and connection deeply embedded in the school's culture, the sacred space was decorated with two Aboriginal symbols of leadership, a yidaki (didgeridoo) and a nulla-nulla (hunting stick). This reminded the school community of their responsibility to Country, the land and restoring justice for Aboriginal Australians, bridging equity gaps and advocating for a more equitable world.
27 Jun 2023

CathWest Innovation College are holding a 'Try a Trade' event on Tuesday 27 June at the Loyola Campus (Mt Druitt). Book fast as there are limited places available!

20 Jun 2023

CathWest Innovation College are holding a 'Try a Trade' event on Tuesday June 20 at the McCarthy Campus (Emu Plains). Book fast as there are limited places available!