Fierce and Fearless
23 May 2019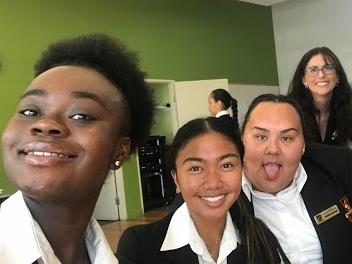 "Here's to strong women: may we know them , may we be them and may we raise them."
Unknown


Friday the 8th of March, a day set internationally to recognise the strong women of which live within our society such as single mothers, sisters, grandmothers, nieces and many other female figures within the lives of many.
Within the Mount Druitt community International Women's Day was celebrated with an exclusive girlies only meet up in our local Mount Druitt Hub there we met with inspirational women who shared their personal success stories.
Fierce & Fearless isn't always something that people think of when they see a female.. we often get stereotypes such as "Dumb & Annoying" but what if we were seen for everything that is good about us? What if people told us we were pretty and nurturing? What difference would it make? At Fierce & Fearless , one of the speakers spoke about how stereotypes constantly being thrown at us can impact our mindset and the way in which we see ourselves as young empowering women. The speaker referred to it as a "lawn mower" if you constantly mow the same spot nothing grows back, if we constantly feed ourselves with stereotypes and believe what we see in the media we won't see self progression or develop any self love for ourselves or those around us. But if we decide to mow one spot and move on as we go we will see the change, We will not only see the change but we will become the change.
Another valuable skill , we learnt was the art of meditation and positive affirmations and how quickly it can change your mindset. Meditation is a skill which has many health benefits and the benefits of which can increase the meaning of life. Meditation doesn't have to be something that is done as a hobby and it can simply be a small breathing exercise or simply sitting in your room listening to your favourite sad song shedding a few tears. All of which is very normal! Positive affirmations such as "You are kind", " You are patient", "You are loved" all take less than 3 seconds to say to yourself and it can impact basically your week or even your whole life!