Year 7 Information Night 2019
18 Mar 2019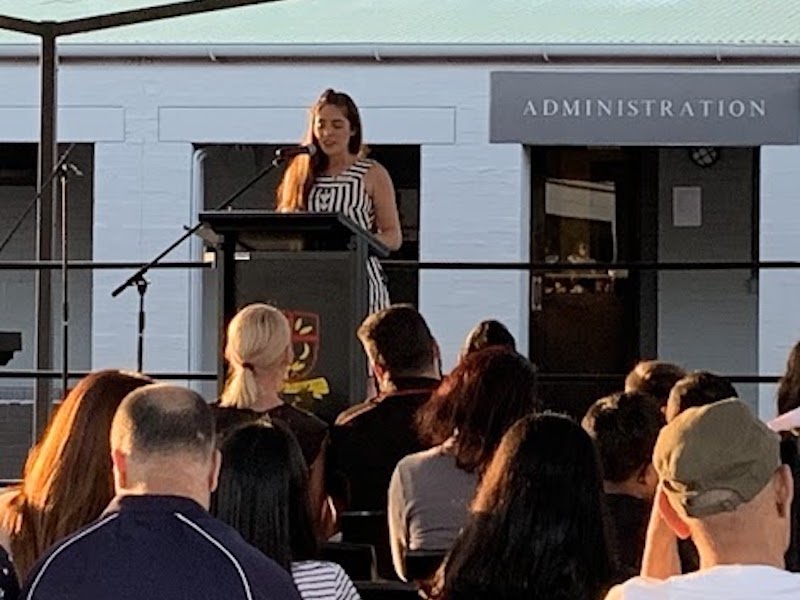 The Year 7 information night was on Monday the 25th February 2019.
With the new year arriving at the same time as the school transitions from a year 7 until year 10 high school to a year 11 and eventually year 12 school in 2020. This a very exciting change for the school, its students and the faculty. This also includes a change for the families that are involved in the change. This is why having a year 7 information night has become crucial as it will help allow the parents and caregivers to gain a better insight into how the school will be changing and what has already been done.
The night began with the Executive Team; Mr Jones, Mrs Refallo, Mrs Nash, and Miss Valleri, Leader of Learning Pathways (Stage 4) leading Year 7 students and their parents through the school to the Basketball Court where they were greeted by the team from Pizza Boys who were busily filling their portable ovens with a variety of fresh pizza to eat before the formal activities commenced. This gave the families and teachers time to have get to know each other.
Once everybody had finished eating they were invited to check out the Year 7 Learning Hub where they could experience the amazing spaces that have been built here at St Clare to maximise learning. There was positive feedback when it came to the new learning spaces. The students took the opportunity to explain to their families how the spaces worked and the collaboration made possible in the space. It also allowed the parents to visualise how their children learn in an effective manner.
After the families and friends explored the new Year 7 Hub they moved to Town Square where a stage and audience of chairs had been assembled. Once everyone had found a seat, the presentation began with a welcome from Mrs Nash followed by an address from Mr Jones. This gave another insight as to how the school is being run and how the school would respond to any issues or concerns that may arise.
Miss Valleri then addressed the extended community and the Year 7 cohort, highlighting coming events such as the Year 7 camp and what would be involved in this. This showed how organised and caring the St Clare's staff is and how they are prepared for anything and no matter how busy will make time for anyone or issue. The night also included a musical number performed by Tomika Harley from Year 10. She played a classical piece of music on the keyboard for everyone to enjoy. This was an amazing opportunity to highlight the musical talent of some of our students. Mr Brain was there to assist Tomika setting up and to help calm any nerves she may have had performing on stage.
We would like to thank all of the staff and teachers responsible for the night and are excited to see what is in store for the school!
Attending Teachers
Mr Jones - Principal
Ms Refallo - Assistant Principal
Mrs Nash - Assistant Principal
Miss Casser - Religious Education Cordinator
Miss Valleri - LOL Pathways (Stage 4) & English/Photography/Art
Mrs Watts - LOL; Diversity & Maths
Miss Lalor - LM for McKillop & English/HSIE
Mrs Luthra - School Counsellor
Mrs Brown - LM for Kolbe & English + Year 7 R3 Reading Intervention
Mrs Neilson - LM; Benedict & LOTE
Mr Cross - English/HSIE/RE
Mrs Damski - Religion/Diversity
Mr Woodbridge - LOL/Maths
Mrs Turnball - LOL/PDHPE
Miss Brooks - PDHPE
Mr Carlos - PDHPE/RE
Mrs Fresco - PDHPE
Mr Mizzi - PDHPE
Mrs Lee - PDHPE
Miss Bonarius - Science
Ms Tivoli - TAS
Mrs Rodricks-Testa - Science/RE
Mrs Bullen - HSIE/RE
Mr Brain - Music
Mr Calvo - RE/Art/LOTE
Mrs Rogers - English