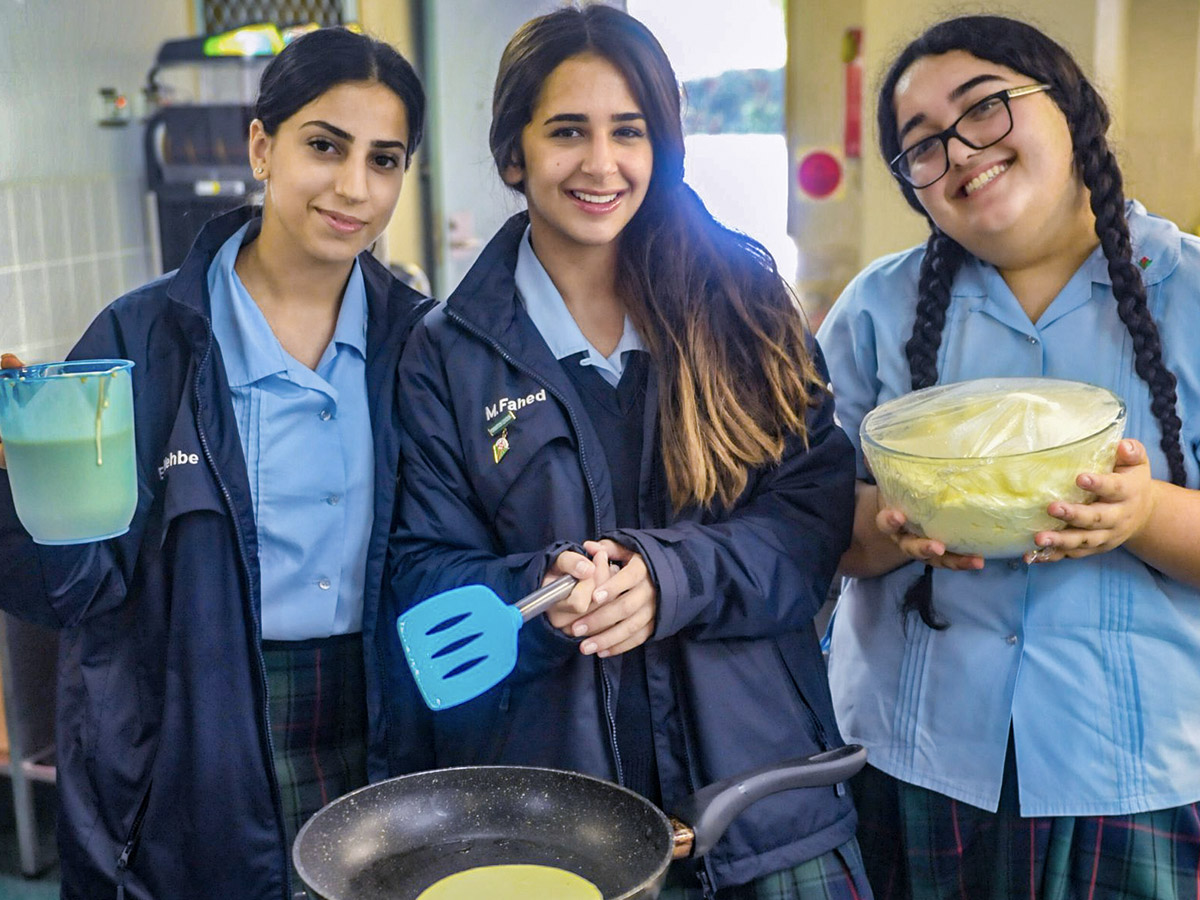 Mira Fahed (centre) regularly volunteers with classmates for school events and fundraising initiatives at Delany College Granville.
Twenty-nine outstanding young leaders from secondary schools across the Diocese of Parramatta were recognised through the 2021 Bishop's Award for Student Excellence. For the second year running, the awards were conferred virtually as a result of COVID-19.
Through these annual awards, Bishop of Parramatta Vincent Long Van Nguyen acknowledges the contribution of Year 12 students to their school and local community, as nominated by their Principal.
"These faith-filled young people have shown how they have continued to serve their communities despite significant challenges during two very important years for them educationally," Bishop Vincent said. "I am in admiration of how they have drawn on their faith and their resilience to put the needs of others before their own. I am filled with joy and hope when I think of the example these young people can show the rest of us. I am proud that these responsible, caring and intelligent young people are a wonderful example of the graduates that Catholic schools are known for."
Catholic Education Diocese of Parramatta Executive Director Greg Whitby said that the Awards were an opportunity to recognise the leadership of these outstanding young people after a couple of very tough years. "We're so proud of the Class of 2021," Greg said. "It means a lot to be able to celebrate these students' service to their school communities, as well as their resilience in adversity."
Year 12 student Mira Fahed has been committed to building school spirit throughout her time at Delany College Granville.
Mira leads by example, regularly getting involved in fundraising events such as flipping pancakes with classmates for the school's fun-filled Shrove Tuesday celebrations.
A committed member of her local Parish, Mira serves as College Formation Leader and constantly demonstrates a deep love of learning, an unwavering commitment to her faith and empathy for the less fortunate in the community.
"Mira is a young person of conscience, commitment, compassion and competence," said Principal Paul Easton. "We have been blessed in her leadership at Delany College."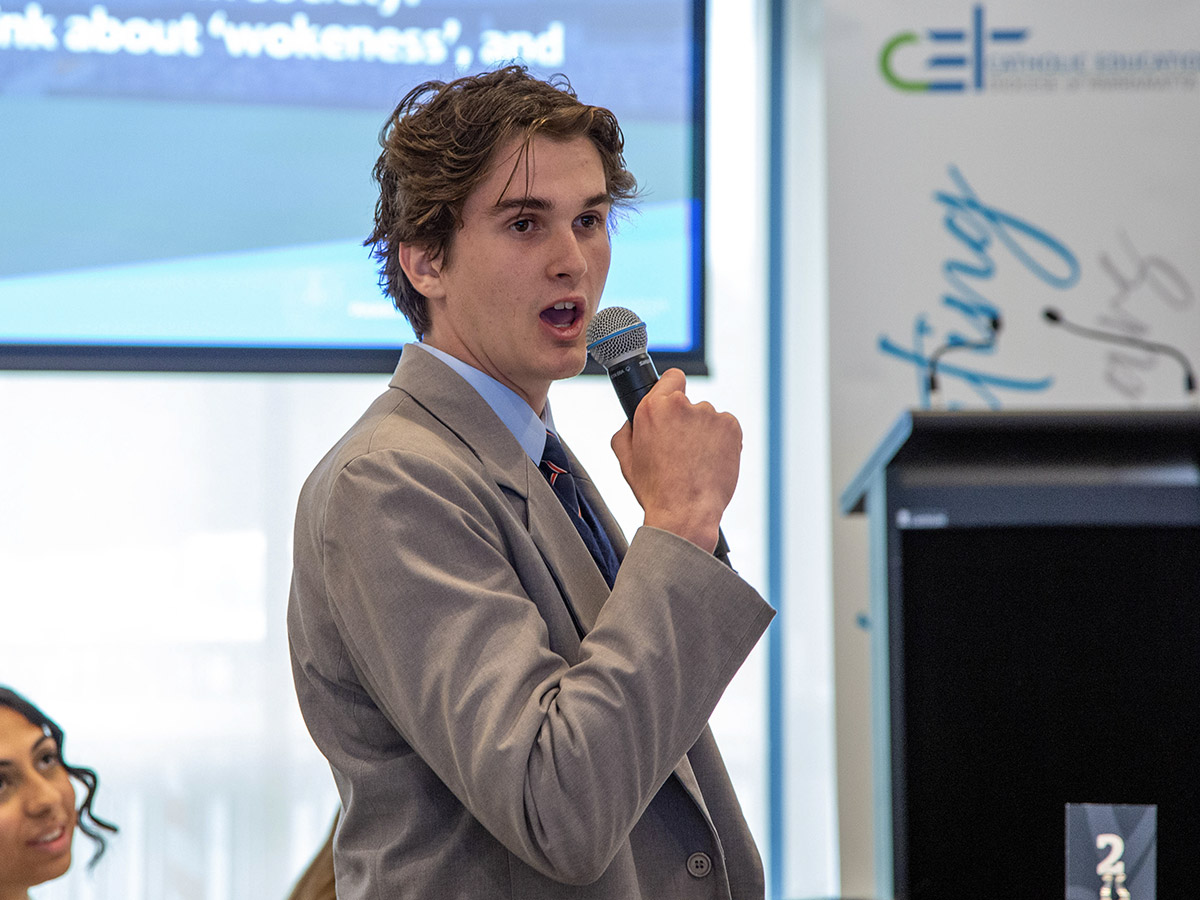 Emmaus College Captain Harlam Filer is passionate about helping others, especially those in the community facing hardship.
Emmaus Catholic College Captain Harlam Filer exemplifies what it means to contribute to a school community and be of service to others.
In Year 8, Harlam joined the student group that visits nearby CatholicCare's Emmaus Village retirement home and has been involved in so much the College has to offer throughout his time at the school. As well as helping organise the Vinnies Christmas Appeal, volunteering with Vinnies Van and supporting Project Compassion, Harlam has also excelled academically, acts in school productions and takes part in many other school fundraising activities.
"Harlam will always go out of his way to help others," said Natalie Gaudiosi, Emmaus Year 12 Leader of Wellbeing. "I remember being on an excursion and seeing Harlam help a woman carry her pram up the stairs at Central Station because he could see her struggling. This woman approached me to make sure she could acknowledge Harlam for his kind gesture."
"It's been a privilege to see Harlam develop into such a fine young man through his time at Emmaus," Principal Rob Nastasi said. "He is an exemplary student with a strong social conscience. He continues to amaze everyone with his generosity of spirit and a constant willingness to help others."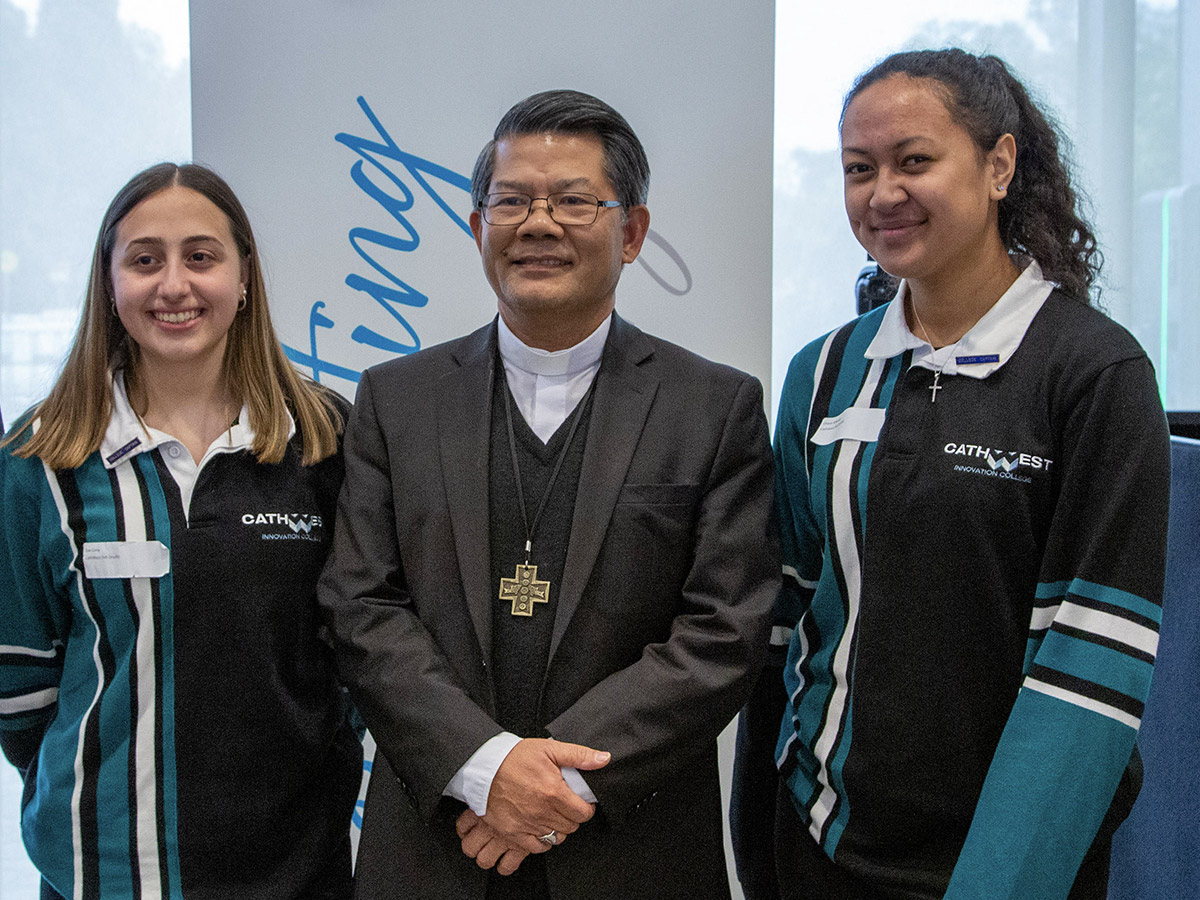 Oliana Katopau (right) and fellow CathWest leader met Bishop Vincent during the Student Leaders Forum earlier this year.
As one of the first three elected School Captains at CathWest Innovation College, Oliana Katopau has been a pioneer in defining what leadership at CathWest looks like.
Oliana played a crucial role in the College prayer being part of every Religious Education class. She helped to co-ordinate and sing for College liturgies and has also been involved in showcasing what her school has to offer through Open Nights. While COVID-19 has made organising College events difficult, Oliana has shown determination and resilience in creating opportunities for students to remain connected during the period of remote learning and for her peers to have their voices heard.
Oliana's leadership is one of gentle humility that has earned the respect of all students and staff. She shares her faith in a way that has meaning for the diverse student body that comes to CathWest in Years 9 to 12 from over 50 different feeder schools.
"Oliana exemplifies what it means to be a person for others," said Principal Cathy Larkin. "She has been a role model for the entire student group as our new school grows into a community of companions. Her example helps other students realise that their passions and vocation are gifts to be developed, not for self-satisfaction or self-gain, but rather, with the help of God, for the common good."
"Oliana has demonstrated what an education of the whole person means by always making others welcome, included and treated with their God given dignity," added Head of Mission Thomas Hunter.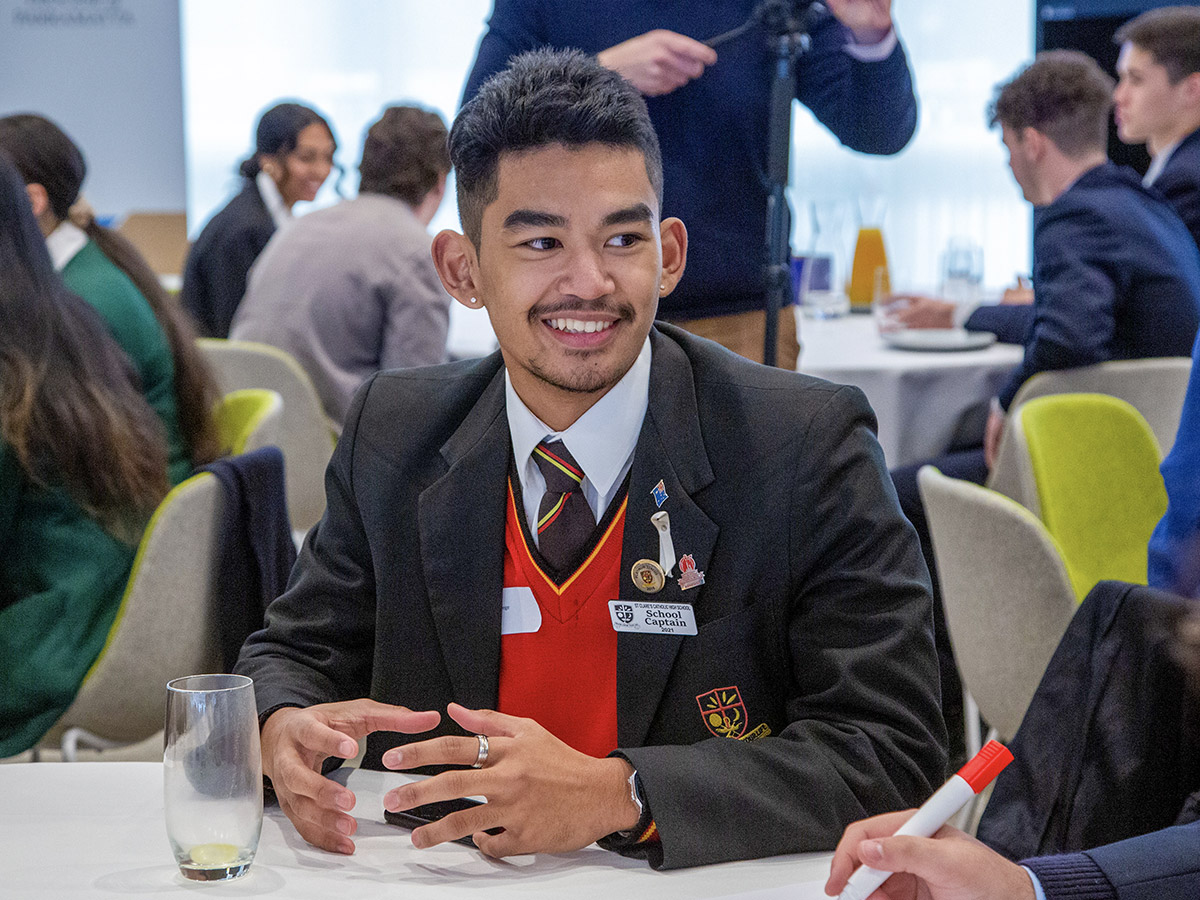 St Clare's Catholic High School Hassall Grove School Captain Justine Gutierrez has shown great leadership through his time at the school.
Serving as a Catechist and the Social Justice Captain from 2018 until 2020, St Clare's Catholic High School Hassall Grove School Captain Justine Gutierrez has displayed a passion for social justice and leadership through his time at the school.
A strong witness to his faith, Justine volunteered for roles in liturgical celebrations while also representing his school with pride in Bring It On Dance competitions, basketball, performances for Harmony Day and, in 2021, has served as School Captain with distinction.
"Justine embodies the Franciscan spirit through his constant willingness to help others," Principal Kevin Jones said. "It's great to see our School Captain putting our values of respect, compassion, service and leadership into action and it's such a pleasure to have this honest and generous young man at St Clare's."
Catholic Education Diocese of Parramatta congratulates each of the 29 students recognised with a Bishop's Award for Student Excellence in 2021.