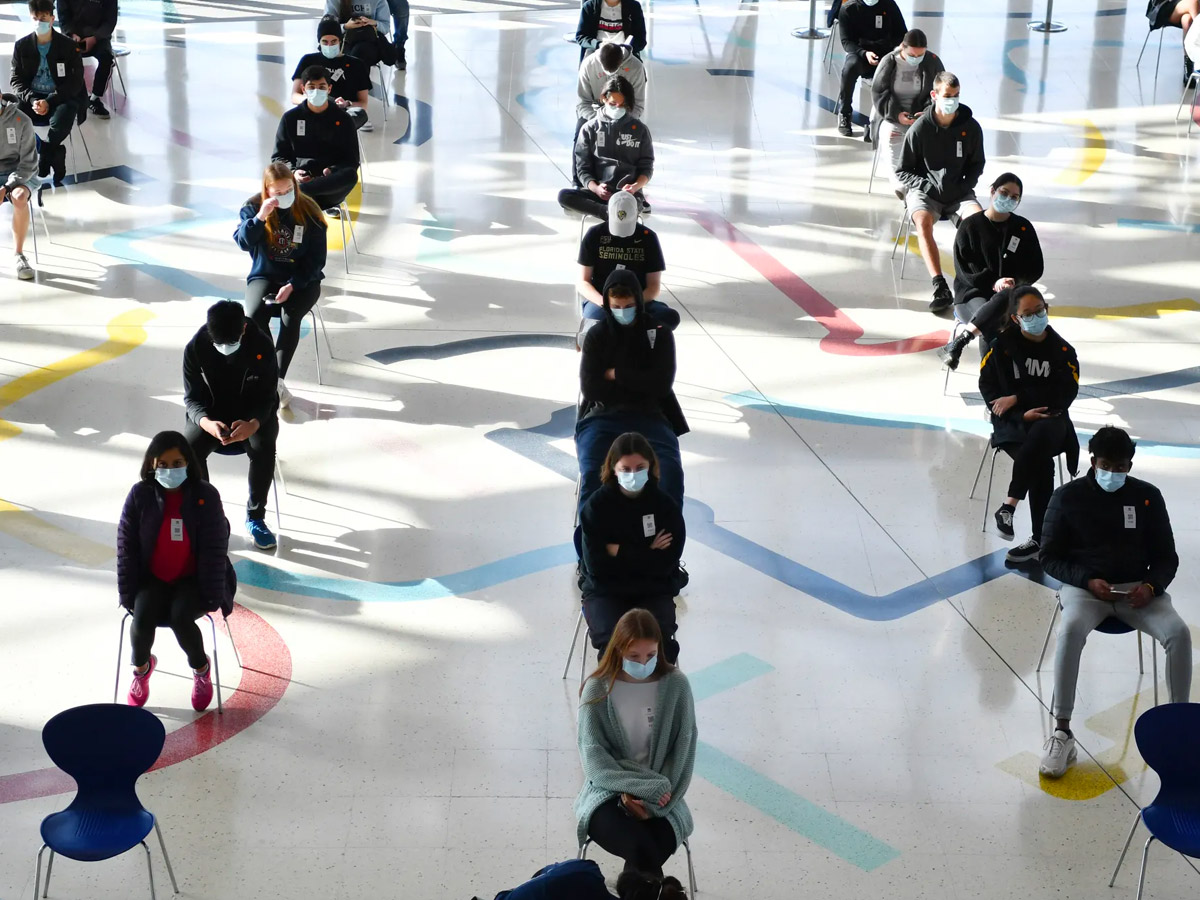 Year 12 students begin to get their Pfizer vaccinations at the hub at Homebush. CREDIT:DEAN LEWINS
Schools ask for mass teacher vaccination days to prepare for a return in term 4
The Catholic school sector has asked Premier Gladys Berejiklian to organise mass vaccination days for teachers at state hubs, saying it could help schools prepare safely for a potential return of students in term four.
The call comes as the head of the NSW Department of Education - which runs public schools and employs almost 70,000 teachers - said she had no way of knowing how many of her staff have been vaccinated.
The NSW Teachers Federation wants the government to develop a vaccination strategy not only for teachers but for eligible high school students, saying significant numbers of young people were falling ill with COVID-19 in Sydney.
As the Premier links vaccination rates to the lifting of restrictions in the wider community, schools remain a blind spot for authorities due to the department's inability to get centralised information on the inoculation status of its employees.
"Vaccination data remains a personal form of data," the NSW Department of Education secretary Georgina Harrisson told a parliamentary inquiry on Wednesday. "We have no way … of centrally knowing whether or not a teacher has been vaccinated."
The state government's position on giving teachers priority for vaccinations is that every adult over 18 can now get AstraZeneca at many venues. However, principals say some younger staff members have struggled to access it because their GP has told them to wait for Pfizer.
A spokesperson for NSW Health said teachers were encouraged to contact their GP, pharmacy or a vaccination hub to get a vaccination.
There has been a teacher priority program run by the NSW government, but it was limited to the three local government areas initially identified as hotspots. Twenty one per cent of teachers are aged under 30, and six per cent are under 25.
The head of Catholic Schools NSW, Dallas McInerney, wrote to Ms Berejiklian on Wednesday evening, saying industries such as construction and retail had been allocated priority on certain days at state-run vaccine hubs to give workers quick and easy access.
"There is a compelling proposition to further support and encourage school staff in NSW to access vaccines at various sites across NSW in a time frame that allows them to safely prepare for term 4," wrote Mr McInerney, who has told his schools to prepare for remote learning to continue for the rest of term 3.
"Identifying enhanced or dedicated vaccination venues, particular days of the week or scheduled times set aside for schools staff in NSW will allow these committed professionals to more easily and readily receive their vaccinations in greater numbers than might be the case."
The principal of St Clare's Catholic High School, Hassall Grove - which is in one of the hotspot areas - said vaccination appointments were not readily available for many of his teachers.
"We allow our staff to broadcast email if they become aware of medical practices where they can book and access vaccinations," he said. "Our staff are very concerned that their safety is not being taken seriously and that decisions are being made with no regard for them and their families."
Some private schools have organised vaccinations themselves, such as Barker College, which contacted a local medical centre to set up appointments for teachers.
"It is offered in recognition that schools provide an essential service for the community and participation in the vaccination program is completely voluntary and a way of supporting the national effort in our fight against COVID-19," said Principal Phillip Heath.
NSW records 345 local COVID-19 cases
Thursday August 12: New South Wales has recorded 345 new local coronavirus cases and two deaths. Premier Gladys Berejiklian also announced the lockdown extension for the Hunter and Upper Hunter by one week.
NSW Teachers Federation president Angelo Gavrielatos said the union would be keen to discuss a plan that prioritised teacher vaccinations. "There is no plan for the vaccination of students [outside year 12 in hotspot local government areas]," he said.
The Catholic sector has also commissioned legal advice for its schools as to whether principals can ask staff whether they are vaccinated, an issue that raises legal questions around discrimination and privacy.
The advice says principals can request the information as long as it is given with consent, and only if they explain that the information would be used to make health-based decisions such as who can work on the school site.
Public school principals have not yet been provided with advice on this issue, but some say their staff are volunteering the information.
Vaccination of teachers has become a thorny issue overseas as countries lift restrictions. California has mandated that teachers must be vaccinated or face regular testing, and Italy has made vaccination mandatory for teachers.
The government has not yet revealed its back-to-school plan. The NSW Department of Education has hired four consultants from KPMG to help manage the project, which will include reviewing back-to-school strategies overseas, on a contract of up to eight weeks.
Meanwhile, the Independent Education Union has rejected a push from independent school principals to be given more autonomy when deciding their school's response to COVID-19 within NSW Health guidelines.
The union held an emergency meeting on Thursday, saying health-related decisions should not be left up to individual principles. "Other school sectors and other sectors of the economy are operating under strict, consistent guidelines and there is no reason independent schools should be exempt," he said.
When the Herald asked Mr McInerney about the suggestion, he said: ``The best response the school sector can put to the government and ministry of health across these matters is a united one."
The Department of Education was contacted for comment.