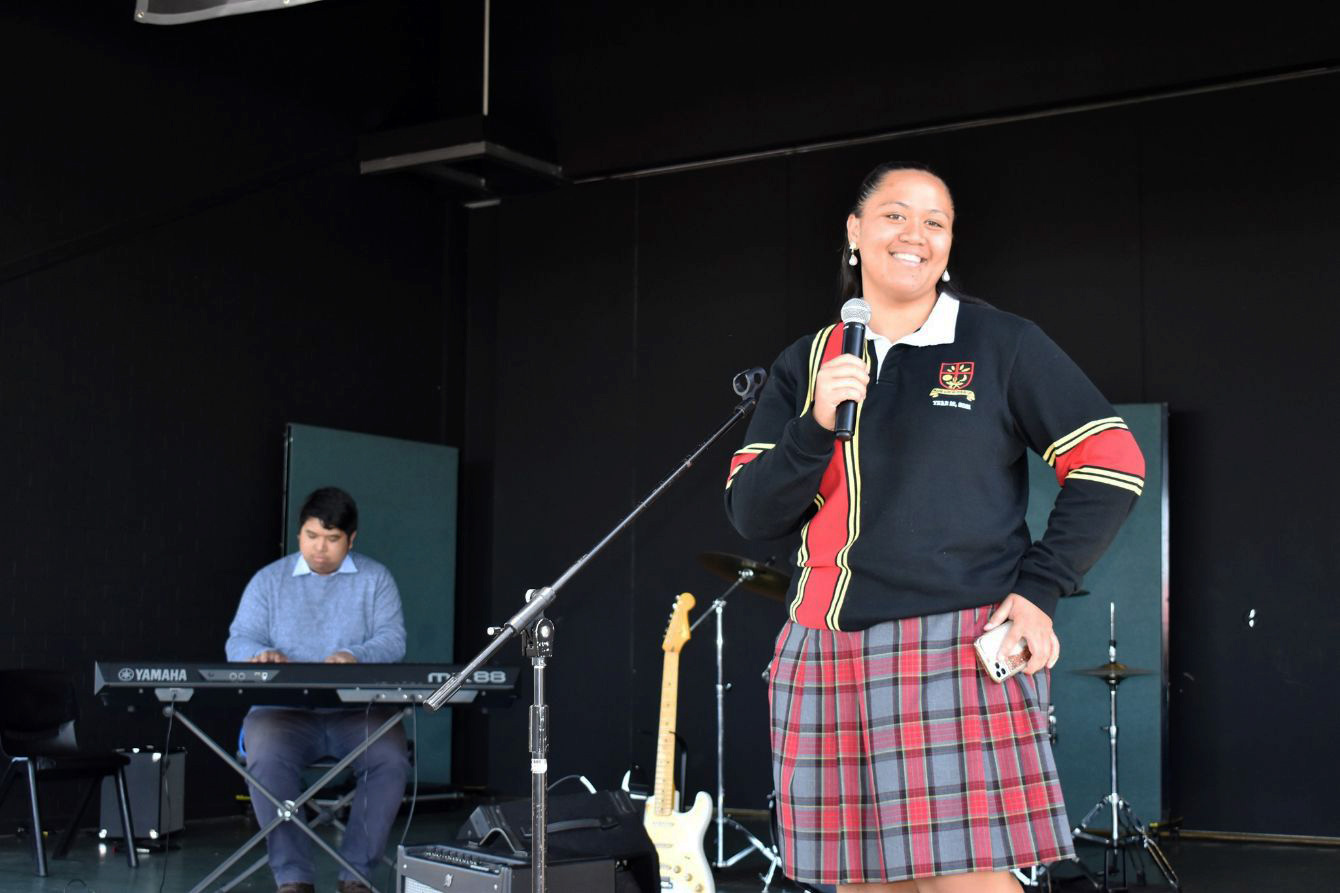 Music teacher William Melovo loves to support students in their performances. Photo Credit: St Clare's Catholic High School photography students
As the school bell rings for lunch, students spill out of the classrooms, filling the amphitheatre at St Clare's Catholic High School Hassall Grove. It's 'Open Mic Friday', according to the sign on stage and school leaders Denzel, Nicole and Prayer are upfront preparing to start the show.
Year 12 student Rosalina takes the stage, leading the program with a soulful rendition of the retro classic, "I don't want to talk about it". Though singing in public used to "make her shake", she loves it and also shares her gifts by singing Gospel songs through a local church choir.
Rosalina thinks Open Mic Friday has changed the St Clare's Catholic High School community. She loves the way that students gather around to support each other.
"It's a good thing because it helps kids feel confident to do what they like," Rosalina said. "It shows other kids' talents that we don't know about."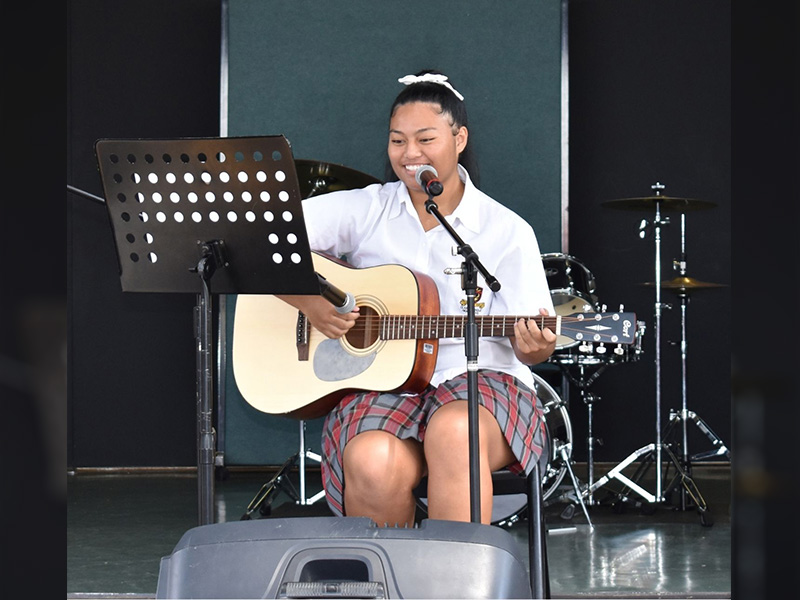 Year 12 student Rosalina has the gift of a beautiful voice. Photo Credit: St Clare's Catholic High School photography students
Principal Kevin Jones sees the popular event as a social occasion that allows students to share their interests and culture, celebrate strengths and show up for each other too. He's hoping that the events will be livestreamed from mid-year.
Year 11 Music students do part of their assessment through a solo performance at Open Mic Friday. Some of the same students are also studying Entertainment and run the "backstage" part of the event.
"Every Friday, they're learning a lot about performance and production," Kevin said. "We are hoping that this will become a well worn pattern of study for our students in the future."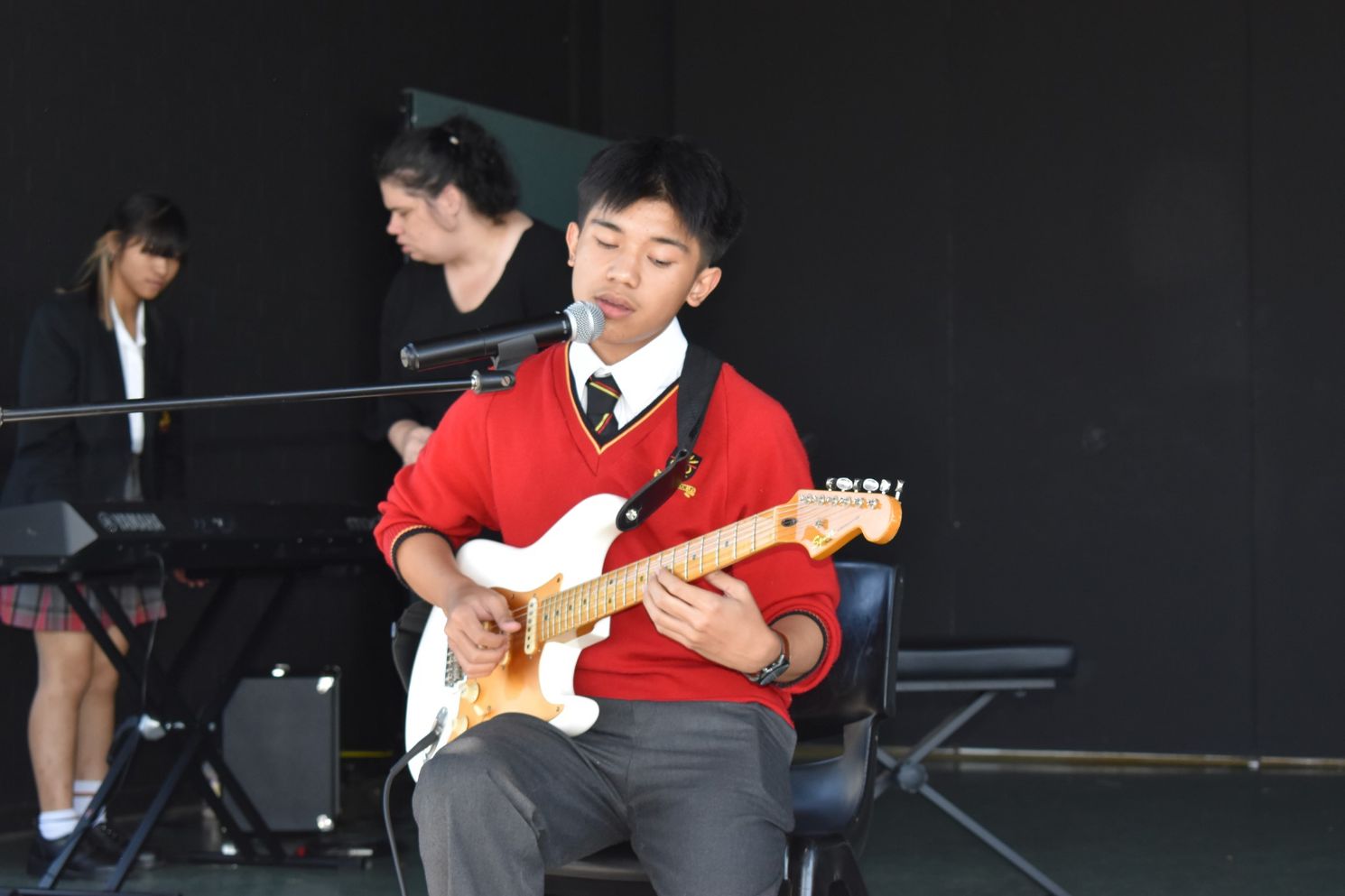 Photography students enjoy documenting the performances at Open Mic Friday. Photo Credit: St Clare's Catholic High School photography students
Photography students regularly document the event, including through the powerful images that feature in this story. Another new course at the school focuses on Active Volunteering, and Kevin sees opportunities for these students here too.
Year 10 student Kiarrah is a regular at Open Mic, an event that she agrees "brings the community together". She thinks the opportunity to perform for her classmates is "really cool" and values the performance experience. She loves singing for her community, and her repertoire includes the occasional power ballad.
Brian, also in Year 10, sometimes rips out an electric guitar solo when he takes centrestage. His music provides some balance with his studies through the chance to "chill and play guitar". Brian reports that his peers are a great audience and plays to the crowd with covers of pop songs.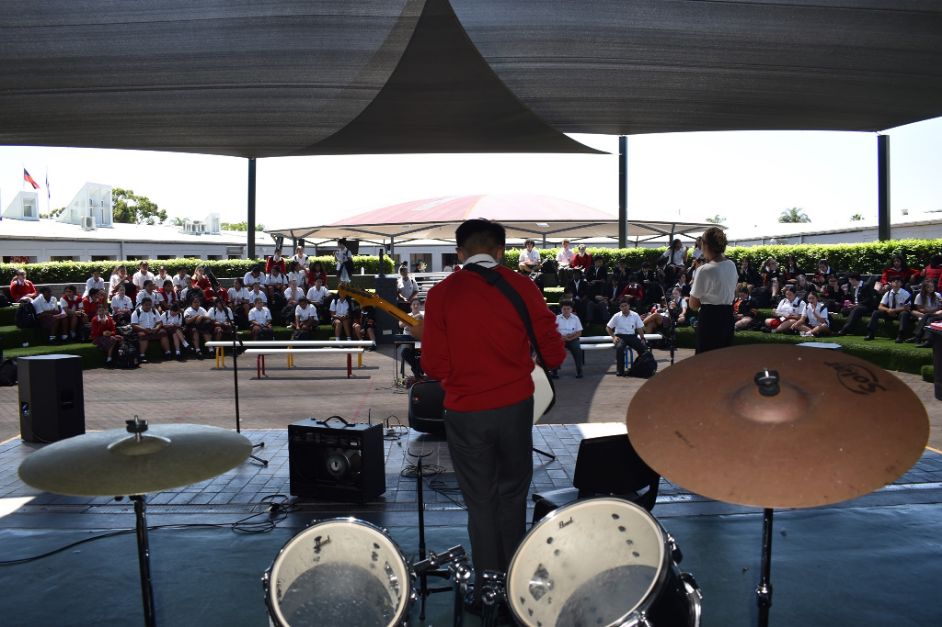 Students pack into the amphitheatre to show their support for the performers. Photo Credit: St Clare's Catholic High School photography students
Fellow Year 10 student Prudence performs solos, duets and even has her own band, the enigmatically titled, "No Rest for the Students". "We have a lot of fun"," she said. "Everyone's so supportive...the energy encourages you to go up on stage and sing."
Music Teacher William Melovo shares a passion for Open Mic Fridays, fronting the teacher band. He loves how it gives students the opportunity to showcase their talents (and teachers too)!
The vibe is supportive and joyful, with lots of noise from the crowd. As the bell rings for afternoon lessons, two gutsy Year 7 students have just taken the stage despite being just a few weeks into their time at the school. When it seems that they might need a little encouragement, Year 12 sets the tone by breaking into applause and cheering.
As the curtain falls on Open Mic Friday, the lasting impression is a strong and supportive community with so much talent to share. Bravo and encore!
---
Learn more about St Clare's Catholic High school Hassall Grove