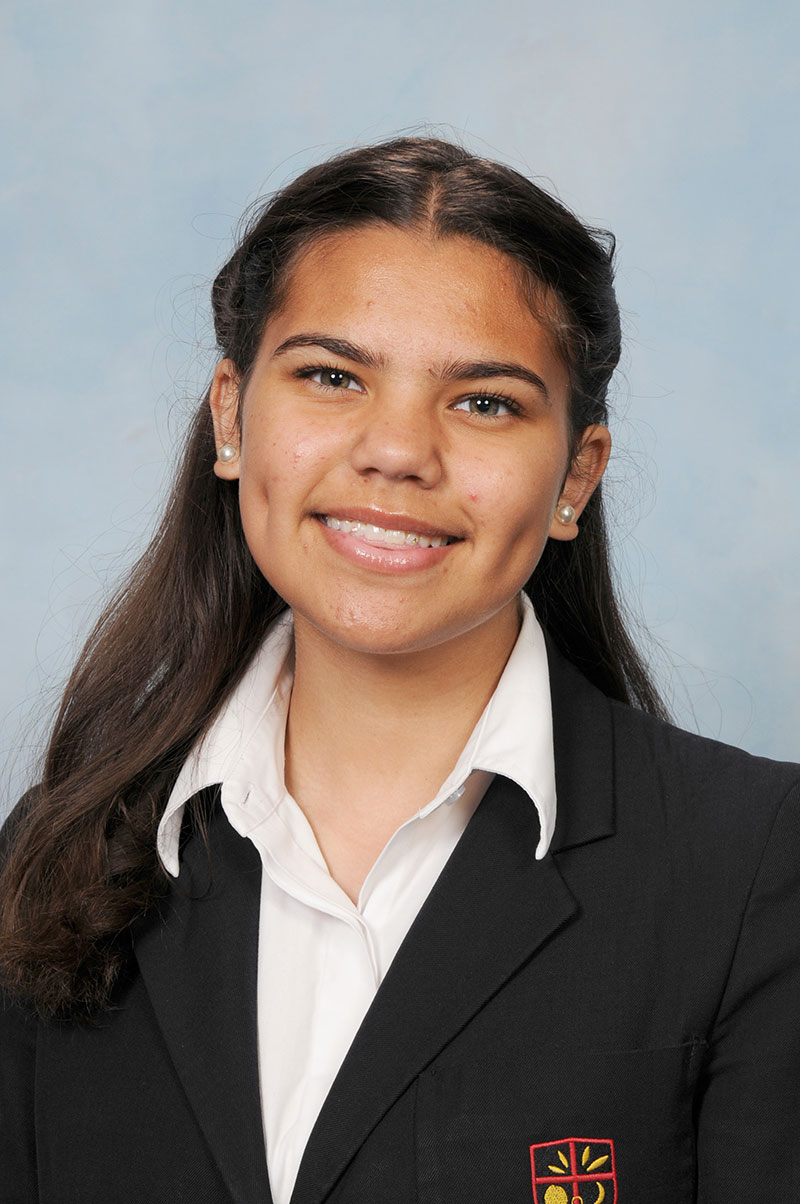 An outstanding Hassall Grove student has received full marks for a TAFE course she completed in addition to her Year 11 studies. Determined to learn more about her culture, St Clare's Catholic High School student Taleishah Councillor pursued her passion by enrolling in Aboriginal Studies at TAFE.
Taleishah was so keen to study Aboriginal Studies that she left St Clare's Catholic High School to seek out a school that offered the subject. After missing the St Clare's community, she made the decision to return and take on the course through TAFE.
A combination of COVID-19 restrictions and administrative delays meant that Taleishah was not able to complete the course work until Term 3, effectively meaning she had to complete the entire Year 11 Aborginal studies course in one term! Guided by St Clare's teacher Alyson Cefai who has acted as a mentor, Taleishah took up the challenge.
"We had to manage it really well because of my other subjects," Taleishah said. "Ms Cefai really helped me in managing how I would do it all."
As Taleishah started completing her assignments she was excited to receive some great marks and soon noticed that with each assignment she completed, her results were getting even better.
Taleishah pushed on to complete a 2000 word report looking at the formal and informal support Indigenous students receive in the NSW education system. She interviewed students from public schools and Catholic schools and created surveys to collect data for her work. She was amazed when she received 100/100 for her major work.
"I was really happy with myself," Taleishah beamed. "I remember at the start of the year I was asked what my goals were for myself. My goal was to get a B because I thought down on myself and that I could never be an A student. I never got the high marks and I thought it was just something I couldn't reach. So I lowered my expectations of myself to get a B."
Teacher Alyson Cefai said she was proud of Taleishah and that she has gained so much confidence in her overall school work as a result.
"I was so proud of her because she worked so hard," Alyson said. 'Many of her teachers have commented that in the second half of the year they have noticed a different work ethic and attitude across all subjects."
"It just shows that if I can do well in one subject, I can do well in my other subjects," Taleishah added.
Taleishah's work has potential to provide practical insight to schools and decision-makers in education. In an excerpt from her final assignment, Taleshisha said she learned a lot about her local Aboriginal community and what the students have to say.
I learned that students from all sectors of education want an education and they want support...

Like all things no organisation and what they do is perfect but if we listen to the voice of the students and their individual needs...\ Indigenous students should be able to access long term educational support regardless of what education sector they are in. When the question "Do you think it's important for schools to offer Indigenous student support" students overwhelmingly replied saying that they saw this as a great need to be offering long term educational support. It is about taking the most successful elements from each educational sector and combining them to provide the ultimate support network for students.
St Clare's Catholic High School took note of Taleishah's findings and listened to the students who said they wanted to see more of their Aboriginal culture represented in the school. As a result NAIDOC week was even bigger and better this year than previous years.
"The week just kept getting better and better and really shows that support is there and they want to hear this feedback and turn it into a positive," Taleishah said. "I'm so grateful that the whole school is getting involved."
Taleishah said she is proud of her achievements but also believes that access to Aboriginal Studies should be made more easily available to students in the Diocese citing the difficulties she had earlier in the year in changing schools and then accessing it through TAFE.
"I hope that for people who want to do the course in the future that it will be offered as a subject and that Catholic students shouldn't have to access it on their own accord outside of the school, she said. "It has been a pretty big experience and what I hope from the report is that it can make a difference to how schools support indigenous students within the education system."
When she finishes school, Taleishah hopes to pursue a career in the travel industry (post COVID-19) and work with Catholic Education Diocese of Parramatta's Jarara Indigenous Education Unit supporting Aboriginal students.
---
Learn more about St Clare's Catholic High School