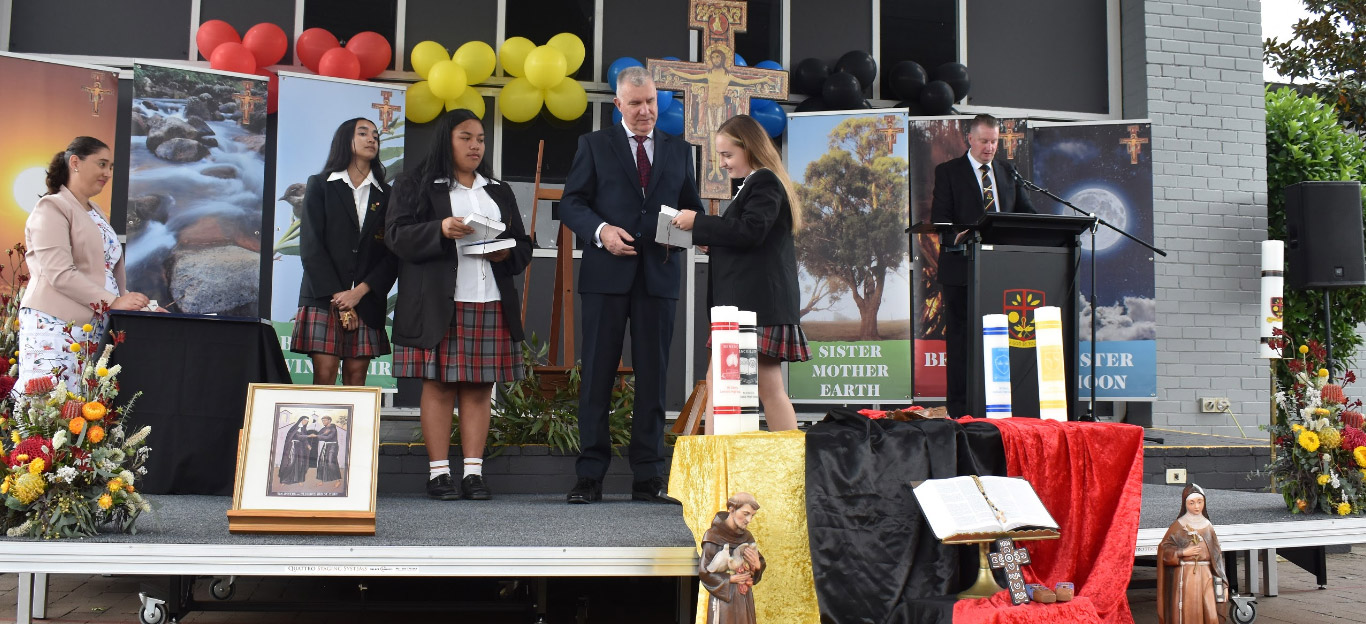 Nicola Prescott, Year 12 graduate, receiving her bible and the Tau Cross, a franciscan symbol, at the Graduation Ceremony.
St Clare's Catholic High School Hassall Grove has celebrated the graduation of its first HSC class. The Class of 2020 includes several students who are the first in their family to finish Year 12.
Justice Sene, who is currently completing his exams, has five siblings. He said he has seen cousins complete the HSC, but he will be the first in his family, considering himself a role model for his younger brothers and sisters.
"It feels good," said classmate Jeralynn Tui. "I'm proud that I achieved a milestone with my family's name on my back."
The students are pioneers in the school's 26 year history too. Formerly a Year 7 to 10 school, in 2018 it was announced that St Clare's Catholic High School would welcome Year 11 and 12 students for the first time to meet local needs.
The school community farewelled their first-time Year 12 graduates and wished them luck for their HSC exams. Year 10 student, James Palu enjoyed the time with his Year 12 peers.
"I'm happy because they made it," James said. "I'm happy watching them succeed."
The NSW Education Standards Authority HSC Presiding Officer, Janette DuBuisson said "the St Clare's staff, families and community should be very proud of this group of young women and men. They were not only focussed on the task ahead but they also displayed a caring attitude to all around them."
Year 11 student, Kiso Piilua who will sit his HSC next year said he is happy that the school now offers students the opportunity to complete Year 11 and 12.
"I want to finish school where I started," Kiso said.
To support student learning, the school has recently undergone extensive renovations. Exciting new facilities include a stunning new building and two new sports areas. These up-to-date and versatile learning spaces are designed to support the development of skills that will stand students in good stead in the workforce.
Learn more about St Clare's Catholic College